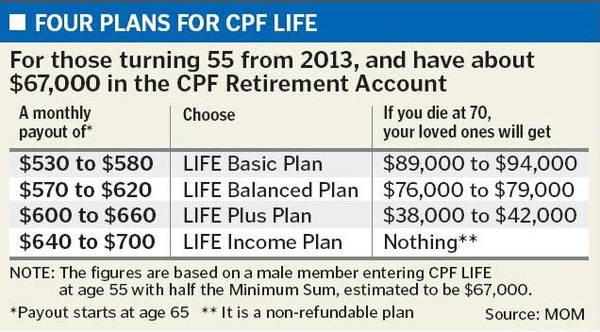 Feb 14, 2009
Schemes streamlined to four, three of which have refundable feature
By Sue-Ann Chia
THE Government has produced a more streamlined package of annuities to give Singaporeans a steady stream of retirement income for life.
The package of four plans, to be run by the Central Provident Fund (CPF) Board, is a revision of an earlier scheme that many found confusing.
Called CPF Life, it will apply automatically to those turning 55 from 2013, with at least $40,000 in their CPF savings. It will give them a desired monthly income from age 65 for the rest of their lives.
The first to come under the scheme are about 35,000 people turning 51 this year.
Announcing the new scheme in Parliament yesterday, Acting Manpower Minister Gan Kim Yong noted that the package introduced last February could confuse.
That had 12 plans, with different amounts of payouts, at different ages.
'(That) gave members a choice, but at the same time, made it more difficult for members to decide on an appropriate plan,' he said.
Now there are 'just four plans that are meaningful, simple and clear'.
To keep it simple, the premiums too will be based only on a person's age and gender, a standard practice in many existing annuity schemes.
No account will be taken of other factors, like whether a person is obese, smokes or what his income level is, he said in his reply to MPs like Madam Halimah Yacob (Jurong GRC), who wanted a simpler scheme.
Madam Halimah made the call during the debate on his ministry's budget, the last in the nine-day debate on the $43.6 billion national Budget. The Parliament sitting ended yesterday.
Mr Gan highlighted that three of the four plans have a refundable feature. This returns to beneficiaries the remaining CPF savings and any Life premium that had not been paid out when the member dies. Only half the earlier 12 plans provided for refunds.
The new scheme is a key piece in a comprehensive plan to ensure that in Singapore's ageing society, people who are living longer will have enough for their retirement years.
CPF Life assures them of a monthly income to cover basic needs.
But the payouts are not fixed for life, Mr Gan told Mr Teo Ser Luck (Pasir Ris-Punggol GRC), who asked how a protracted downturn would impact on payouts.
Mr Gan said it would depend on the prevailing interest rates. A lower interest rate would lead to lower payouts, and vice versa, he said.
But in a move to reassure Singaporeans, he pointed to the interest rates paid out on CPF balances.
'The CPF interest paid by the Government will not fall below the guaranteed floor rate of 3.5 per cent on the first $60,000 of CPF balances and 2.5 per cent for amounts above that,' he said.
The new scheme is also open to older CPF members, who have to opt in. From September, the CPF Board will start asking those aged 55 and older to do so and they will receive the CPF Life payouts as early as next January.
Another group who can opt in are CPF members with balances below $40,000.
While helpful, CPF Life is not intended to solve all financial difficulties for older folk, cautioned Mr Gan, urging Singaporeans to build up their retirement savings by working longer.
So there will be no delaying the re-employment law to be introduced by 2012, he told Mr Heng Chee How (Jalan Besar GRC), who asked if the current downturn might derail plans.
The law requires employers to rehire workers beyond the retirement age of 62.
The employment rate of those aged 55 to 64 has risen in the past five years, from 45.2 per cent in 2003 to 57.2 per cent last year.
http://www.straitstimes.com/vgn-ext-templating/v/index.jsp?vgnextoid=7a78581e3117f110VgnVCM100000430a0a0aRCRD&vgnextchannel=4e60758920e39010VgnVCM1000000a35010aRCRD&vgnextfmt=print