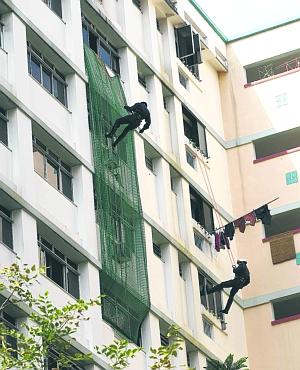 我想說 ,新加坡警察 ,這樣大張旗鼓, 安全問題全部設想好, 設備齊全, 抓一個爬牆的毒犯
佩服 ,佩服..
Feb 21, 2009
Suspect shimmies 3 floors down to another flat in bid to escape CNB officers
By Kimberly Spykerman
IN A desperate bid to evade capture in a drug raid, a man climbed out of his 12th-
floor kitchen window and shimmied down the side of his block and into another resident's home three floors below.
The man, in his late 20s and sporting tinted blonde hair, attempted the death-defying but ultimately unsuccessful escape after Central Narcotics Bureau (CNB) officers came knocking on the door of his flat in Woodlands Avenue 9 on Thursday afternoon.
After getting into his neighbour's unit on the ninth floor through its open kitchen window, the suspect locked the front door of the flat and squeezed into a small cupboard under the kitchen stove. The cupboard was barely half a metre long and a metre wide.
The officers, who broke into the suspect's flat and found it empty, sealed off the block, and spent about four hours combing each level for the fugitive.
Officers from the Singapore Civil Defence Force (SCDF) were also called in for the manhunt, and they set up safety nets along the outside of the block in case the man attempted to jump from the open window.
After several hours of searching, the CNB officers zoomed in on the one unit in the entire block which had an open kitchen window. They then called the home owner, administrative clerk Jessie Lim, 43, at her workplace.
They told her that a wanted man was thought to be in her home. She initially dismissed the call as the work of a prankster, thinking it too outlandish to be true.
But she knew her son, Elliott, 17, was at home at the time, and grew worried.
'I didn't believe it at first, I thought it was some conman calling me so I hung up on him a few times. But I started getting worried when they told me that my son might be in danger,' said Madam Lim. 'My first thought was that whatever he wants he can take, as long as he leaves my son alone.'
Elliott, meanwhile, was blissfully unaware that there was an intruder in his home - he was absorbed in a computer game that he was playing in his bedroom.
It was only when he received calls from both his mother and a police officer, telling him to stay in his room and lock the door, that he realised something was afoot. He said: 'I was shocked, but I just locked myself in, no questions asked.'
CNB officers then broke into the flat and nabbed the suspect.
When The Straits Times visited the flat yesterday evening, the grilles of the kitchen window were firmly locked.
Said Madam Lim: 'I'm keeping them locked from now on.'