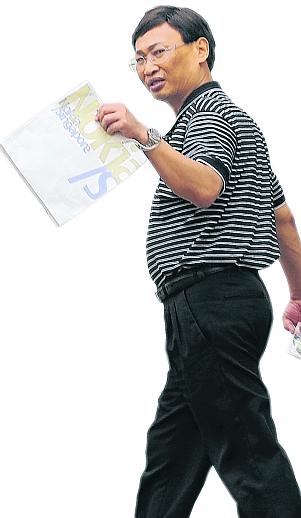 TEN employers who supposedly had locals on their payrolls, hired about 1,000 foreign workers in their place.
The 10 accused
Lim Chye Cheng, 52
Designation: Unknown
... more
Yesterday, the 10 were hauled to court for lying about the number of local workers they employed so they could secretly inflate their quota of foreign workers.
This is the largest number of employers the Ministry of Manpower (MOM) has prosecuted at one go for using 'phantom' workers.
Under the law, businesses are required to hire a certain number of Singaporeans or permanent residents before they can employ foreigners.
Some employers cheat by getting their hands on the details of unemployed locals, mostly retirees, and pretending to be hiring them, to make up the numbers. Then they hire foreigners instead.
The issue surfaced recently in Parliament when MP for Nee Soon Central Ong Ah Heng drew attention to the existence of such 'phantom' workers.
He said some employers felt that the proposed Jobs Credit scheme, which would subsidise salaries of citizens and permanent residents, would unfairly benefit operators hiring foreigners in the guise of local workers.
A MOM spokesman said a total of 50 companies are under investigation, including the 21 the 10 were involved in. They face 387 charges.
Facing the most number of charges were two men in the SME Group of companies, which provides cleaning services.
Lim Chye Cheng, 52, and Steven Lee Kong Weng, 60, a director of the SME Group, are accused of conspiring with Mr Tay Hian Chye, 47, to furnish false information on 101 occasions in work permit applications for some 600 foreign workers. Mr Tay has not been charged.
The alleged offences took place between June and December last year.
Another man, Teong Tye Soon, 39, a director of Voyager Control Services, faces 39 counts of making false declarations to the Central Provident Fund.
The only woman charged was Tan Cheng Cheng, 34, a director of TNS Logistics. She faces 25 counts, while the manager of the company, Chew Beng Huat, 54, faces 15.
The other employers are in construction, marine, restaurant and manufacturing businesses.
Lim and Lee are out on $70,000 and $50,000 bail respectively. The rest were released on amounts of $20,000 to $40,000.
The cases were adjourned to next month.
MOM said the arrests and prosecutions were the culmination of painstaking intelligence probes and investigations over the past few months.
SME Group had been under surveillance since late last year on suspicion of employing 'phantom' workers.
Earlier this month, a group of foreign nationals working for some companies in the group lodged complaints regarding salary arrears.
If convicted of falsely declaring the number of local workers, an offender can be fined up to $15,000 or jailed for up to 12 months or both.
http://www.straitstimes.com/vgn-ext-templating/v/index.jsp?vgnextoid=50ebcf1cf09bf110VgnVCM100000430a0a0aRCRD&vgnextchannel=4e60758920e39010VgnVCM1000000a35010aRCRD
日期: 27 February 2009 2004 hrs (SST)
網址: http://www.cnachinese.com/stories/singapore/view/68880/1/gb/.html
[亞洲新聞網]新傳媒新聞報導,本地21家公司,涉嫌虛報所聘請的新加坡籍員工人數,以便能夠聘請更多薪水較低的外勞。
來自21家公司的10名雇主,因為涉嫌聘請幽靈本地員工,向人力部虛報本地員工人數,今天被控上初級法庭。
其中又以提供清潔服務的SME集團的雇主,林才靖和李廣榮,面對最多的101條控狀。
另外有八名雇主,也面對類似控狀。他們來自建築、海事、物流、製造業和服務業。
一旦罪名成立,雇主將被罰款高達1萬5000元或坐牢一年或兩者兼施。